01.04.2014 | LCIA OF IMPACTS ON HUMAN HEALTH AND ECOSYSTEMS | Ausgabe 4/2014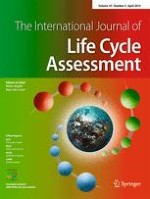 Surplus cost as a life cycle impact indicator for fossil resource scarcity
Zeitschrift:
Autoren:

Thomas C. Ponsioen, Marisa D. M. Vieira, Mark J. Goedkoop
Wichtige Hinweise
Responsible editor: Göran Finnveden
Electronic supplementary material
The online version of this article (doi:
10.​1007/​s11367-013-0676-z
) contains supplementary material, which is available to authorized users.
Abstract
Purpose
In life cycle impact assessment, various proposals have been made on how to characterise fossil resource scarcity, but they lack appropriateness or completeness. In this paper, we propose a method to assess fossil resource scarcity based on surplus cost, which is the global future cost increase due to marginal fossil resource used in the life cycle of products.
Methods
The marginal cost increase (MCI in US dollars in the year 2008 per kilogram per kilogram produced) is calculated as an intermediate parameter for crude oil, natural gas and coal separately. Its calculations are based on production cost and cumulative future production per production technique or country. The surplus cost (SC in US dollars in the year 2008 per kilogram) is calculated as an indicator for fossil resource scarcity. The SC follows three different societal perspectives used to differentiate the subjective choices regarding discounting and future production scenarios.
Results and discussion
The hierarchist perspective SCs of crude oil, natural gas, and coal are 2.9, 1.5, and 0.033 US$2008/GJ, respectively. The ratios between the indicators of the different types of fossil resources (crude oil/natural gas/coal) are rather constant, except in the egalitarian perspective, where contrastingly no discounting is applied (egalitarian 100:47:21; hierarchist 100:53:1.1; individualist 100:34:0.6). The ratio of the MCIs (100:48:1.0) are similar to the individualist and hierarchist SC ratios.
Conclusions
In all perspectives, coal has a much lower resource scarcity impact factor per gigajoule and crude oil has the highest. In absolute terms of costs per heating value (US dollars in the year 2008 per gigajoule), there are large differences between the SCs for each perspective (egalitarian > hierarchist > individualist).