2018 | OriginalPaper | Buchkapitel
11. Sustainability Assessments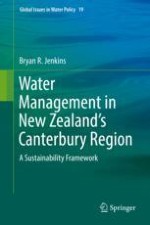 Erstes Kapitel lesen
Autor: Bryan R. Jenkins
Verlag: Springer Netherlands
Abstract
Sustainability assessments have two key components: vulnerability assessment which is the analysis of potential failure pathways for a natural resource system that could threaten its sustainability; and sustainability strategy formulation which addresses the critical variables associated with potential failure pathways so that the system stays within the resilience thresholds and avoids the change in structure and function of the system.
A sustainability assessment of eutrophication from land use intensification in the catchments of six New Zealand lakes highlights that there are different water quality pathways with different critical variables for each lake for what is ostensibly the same issue of nutrient enrichment. This means the management interventions have to be tailor made for each lake. The assessment also shows that the current levels of intervention are insufficient to achieve the desired water quality objectives.
A sustainability assessment of the declining area of the Aral Sea not only identifies failure pathways where system thresholds have been dramatically exceeded, but also demonstrates the need to consider the linkages between socio-economic systems and biophysical systems at three spatial scales to understand why deterioration of social and ecological components dependent on the Aral Sea are likely to persist.