19.01.2021 | ORIGINAL ARTICLE | Ausgabe 2/2021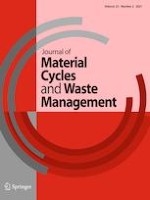 Sustainable approach for the treatment of poultry manure and starchy wastewater by integrating dark fermentation and microalgal cultivation
Zeitschrift:
Autoren:

Rokesh Radhakrishnan, Sanjukta Banerjee, Srijoni Banerjee, Vaishali Singh, Debabrata Das
Wichtige Hinweise
Supplementary Information
Statement of novelty
: Increase in environmental pollution at an alarming rate along with significant aggravation of global energy demand is a major concern for ecological sustenance. Contextually, production of renewable biofuel by concomitant waste remediation is a sustainable approach to satiate this energy requirement. Several authors have reported that wastewater treatment by microalgal cultivation coupled with biofuel production is an efficient method for addressing the dual problem of waste management and fuel crisis. In the present study, integrated process of dark fermentation for biohydrogen production followed by phycoremediation is the primary focus. In the first stage biohydrogen was produced by dark fermentation using starchy wastewater and poultry manure as a co-substrate. And in the second stage, bioremediation of the organic content in the spent wash was achieved by cultivating
Chlamydomonas reinhardtii
in it; followed by the subsequent utilization of the microalgal biomass for biodiesel production. The novelty of the present study lies on the two-stage process of dark fermentation followed by algal production for the dual purpose of organic waste treatment and biofuel production, thereby enhancing the overall sustainability of the process.
Publisher's Note
Springer Nature remains neutral with regard to jurisdictional claims in published maps and institutional affiliations.
Abstract
Dwindling fossil fuels, and the rise in energy demand have urged us to explore alternative renewable energy forms. An integrated process of dark fermentation and microalgal cultivation to deliver biofuels are gaining momentum in recent times. In this study, in the first stage, the starchy wastewater (SWW) with poultry manure (PM) was treated to produce a maximum hydrogen yield of 4.11 mol H
2
/Kg COD
reduced
to 5.03 mol H
2
/Kg COD
reduced
. The reutilization of soluble spent wash for the cultivation of
Chlamydomonas reinhardtii
yielded a biomass concentration of 1.45–1.02 g/L. The potentiality of algae to produce biodiesel was checked effectively, and it was reported that a biodiesel of 90.34 g/Kg
Algal Biomass
to 119.61 g/Kg
Algal
was yielded. The integration of the process enhanced the overall energy with an efficient removal of organic content. In conclusion, the valorisation of PM with SWW through dark fermentation and microalgal cultivation will open avenues to generate sustainable bioenergy forms.
Graphic abstract
×