01.06.2015 | Original Article | Ausgabe 2/2015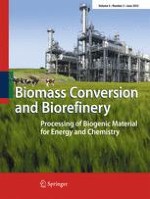 Sustainable biodiesel production through bioconversion of lignocellulosic wastewater by oleaginous fungi
Zeitschrift:
Autoren:

G. Venkata Subhash, S. Venkata Mohan
Abstract
The present study documented the potential of two lignocellulosic wastewaters viz. corncob waste liquor (CWL) and paper mill effluent (PME) and a cellulosic waste (deoiled algae extract (DAE)) as feedstock for microbial oil production by
Aspergillus awamori
(MTCC 11639). Using cellulosic waste as substrate/feedstock for single cell oil (SCO) production reduced the overall cost of production and also accounts for simultaneous waste remediation. DAE showed improvement in biomass production with time, in terms of dry weight (12.8 g/l), followed by CWL (10.2 g/l) and PME (9.83 g/l). Total/neutral (T/N) lipid productivity recorded the same trend where higher T/N was obtained with DAE (35.4 and 18 %), followed by CWL (33.3 and 16.3 %) and PME (32.2 and 15 %). During the growth of fungi, efficient colour (78 %) along with good carbohydrate/chemical oxygen demand (COD) removal was registered, depicting the potential of A. awamori in utilizing the available carbon in waste. The presence of extracellular laccase enzyme in the fermentation medium is also an indicator that validates the observed colour removal and lignin degradation. Higher number of saturated fatty acid (SFA) than unsaturated fatty acid (USFA) in the fatty acid methyl esters (FAME) analysis indicates that the fungal oil obtained has properties similar to those of biodiesel. This study establishes a basis for fungal-based oil production utilizing cellulosic waste as primary feedstock. Integrating waste remediation with microbial oil production also forms an essential element in the present work, especially in the context of biorefinery.