2016 | OriginalPaper | Buchkapitel
Sustainable Development: New Thoughts, New Policy, New Law?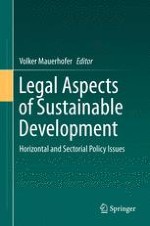 Erstes Kapitel lesen
Autor: Frederik Hendrik Kistenkas
Abstract
New thoughts and new policy on sustainable development have been brought forward and widely discussed and accepted, but law is still lagging behind. This paper aims to fill up that gap and tries to put some new light on how legislation and jurisprudence could meet up with modern sustainability insights. Much nature and planning legislation predates our common understandings of sustainability and might be able to obstruct sustainable development. However, sustainable growth, usually seen in terms of development for which assets and impacts for ecology, economy and society are brought in balance, should be facilitated by future law rather than being obstructed. The paper will focus on European and domestic nature and planning law and their shortcomings and possibilities in terms of sustainable development. The concept of ecosystem services will show the likely obstructions of current law and will help to alter these law provisions as some new improvement directions will be presented.