01.12.2009 | Reliable Information Access Workshop | Ausgabe 6/2009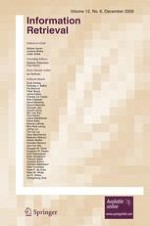 Swapping documents and terms
Zeitschrift:
Autoren:

Charles L. A. Clarke, Gordon V. Cormack, Thomas R. Lynam, Chris Buckley, Donna Harman
Wichtige Hinweise
A previous version of this paper was published as Thomas R. Lynam, Chris Buckley, Charles L. A. Clarke and Gordon V. Cormack. A Multi-System Analysis of Document and Term Selection for Blind Feedback. In
13th ACM Conference on Information and Knowledge Management
(CIKM), Washington DC, November 2004.
Abstract
Experiments were conducted to explore the impact of combining various components of eight leading information retrieval systems. Each system demonstrated improved effectiveness through the use of
blind feedback
, also known as
pseudo-relevance feedback
, a form of query expansion. Blind feedback uses the results of a preliminary retrieval step to augment the efficacy of a secondary retrieval step. The hybrid combination of primary and secondary retrieval steps from different systems in a number of cases yielded better effectiveness than either of the constituent systems alone. This positive combining effect was observed when entire documents were passed between the two retrieval steps, but not when only the expansion terms were passed. Several combinations of primary and secondary retrieval steps were fused using the CombMNZ algorithm; all yielded significant effectiveness improvement over the individual systems, with the best yielding an improvement of 13% (
p
= 10
−6
) over the best individual system and an improvement of 4% (
p
= 10
−5
) over a simple fusion of the eight systems.