2015 | OriginalPaper | Buchkapitel
9. Switched and Saturating Control Techniques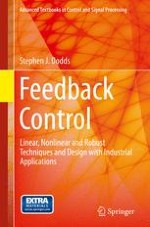 Erstes Kapitel lesen
Autor: Stephen J. Dodds
Verlag: Springer London
Abstract
The first technique presented is pulse modulation that enables controllers designed for continuous control variables to be utilised, highlighting applications such as power electronic drives.
Switched state feedback control based on the switching function and the associated switching boundary is then introduced. The behaviour of second-order systems is studied using phase portraits. This is extended to saturating control with continuous control variables and the boundary layer.
Optimal open-loop control is introduced via Pontryagin's maximum principle. The special case of time-optimal control of a linear time-invariant plant is studied, and information from this is used to synthesise switched feedback time-optimal control laws for first-order plants and second-order plants with switching boundaries derived using the back tracing method. Limit cycling control is studied for first-order plants.
Switched feedback control of higher-order plants is exemplified by first deriving the time-optimal switching boundary for a triple integrator plant and applying it for spacecraft attitude control using variable geometry panels with solar radiation pressure. This is followed by posicast control of plants containing lightly damped oscillatory modes.
The appendix contains limit cycling control for switched state feedback control of second-order plants. An example is given on attitude control of a rigid body spacecraft actuated by on-off thrusters using piecewise parabolic switching boundaries with acceleration parameters adapting to a disturbance torque estimate to maintain a limit cycle of constant amplitude.