20.03.2017 | Original Paper | Ausgabe 12/2017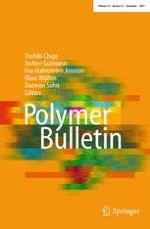 Synergistic effect of silver nanoparticle content on the optical and thermo-mechanical properties of poly(
l-

lactic acid)/glycerol triacetate blends
Zeitschrift:
Autoren:

Homero Salas-Papayanopolos, Ana B. Morales-Cepeda, Saúl Sanchez, Pierre G. Lafleur, I. Gomez
Abstract
Monodispersed silver nanoparticles (Ag-NPs) were synthesized by chemical reduction in aqueous medium and transferred in chloroform to be redispersed in the plasticized matrix of poly(
l-
lactic acid) (PLA) by melt compounding. PLA nanocomposites were prepared using a combination of Ag-NPs in amounts of 0.01, 0.025, 0.05, 0.075 and 0.1% in weight, with 10 pph (parts per hundred) of glycerol triacetate (GTA) to be characterized by UV–Vis and Fourier transformed infrared (FTIR) spectroscopy, differential scanning calorimetry (DSC) and dynamic mechanical analysis (DMA). Optical properties showed that PLA nanocomposites have monodispersed Ag-NPs due to the intense SPR (surface plasmon resonance) absorption band at 414 nm, with a calculated particle size of ~30 nm. The crystallinity is gradually raised at a maximum level (21.1%) compared to the pure PLA (2.3%) and
T
g
drastically decreased from 61 to 36.8 °C when Ag-NPs are incorporated in the plasticized PLA matrix. These results were consistent with the enhanced elastic modulus in DMA analysis, explained from the viewpoint of a good nanofiller dispersion and crystallization behavior, providing a stable and ordered crystal (α-form) in agreement with FTIR and DSC analysis. Finally, the outcomes indicate a synergistic effect between Ag-NPs and the plasticizer GTA, due to the nucleating effect of the monodispersed Ag-NPs and the mobility chain promoted by the plasticizer in the macromolecular arrangement of the PLA.