2020 | OriginalPaper | Buchkapitel
Synthesis and Analysis of Spherical Cementitious Model Particles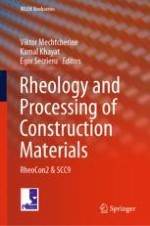 Erstes Kapitel lesen
Autoren: Dimitri Ivanov, Simon Becker, Zichen Lu, Mahmoud Eslami Pirharati, Arno Kwade, Hans-W. Krauss, Dietmar Stephan, Regine von Klitzing, Carsten Schilde
Abstract
A new model system of spray dried particles was developed for the characterization of cementitious materials by Colloidal Probe Atomic Force Microscopy (CP-AFM). Prior to the current work it was not feasible to use CP-AFM with cementitious materials due to their inhomogeneous nature and non-sphericity. With the help of spray drying, it is possible to produce spherical and homogeneous particles with different roughness. Ordinary Portland Cement (OPC) is the examined material in this work.
The model particles are produced in multiple steps. First, the original OPC particles are sieved and nano-ground in ethanol using a planetary ball-mill. After spray drying the cementitious nanosuspension, the chemical composition of the model particles' surface as well as the bulk chemical composition are determined using X-ray Photoelectron Spectroscopy (XPS) and X-ray fluorescence measurements (XRF). Furthermore, the shape, size and roughness of the spray dried particles are estimated by Scanning Electron Microscopy (SEM) and laser diffraction analysis. Finally, first CP-AFM measurements are performed to access the interaction forces between the model particles in ethanol.
The experimental results show that the median primary particle sizes produced by nano-grinding are below 200 nm while the diameter of the spray dried particles are in the range of 10 µm. Furthermore, the results show that particles produced from OPC seem to have a lower content in calcium oxide (CaO) at the surface regions compared to the bulk cement. Possible reasons for these findings are discussed.