01.08.2016 | Original Contribution | Ausgabe 8/2016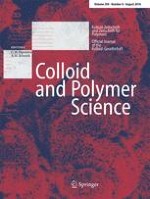 Synthesis and assembly of polyhedral oligomeric silsesquioxane end-capped amphiphilic polymer to enhance the fluorescent intensity of tetraphenylethene
Zeitschrift:
Autoren:

Jin Wu, Xiaoyan Song, Lintao Zeng, Jinfeng Xing
Wichtige Hinweise
Jin Wu and Xiaoyan Song contributed equally to this work.
Abstract
In this study, polyhedral oligomeric silsesquioxane (POSS) end-capped amphiphilic POSS-block-poly (N, N-dimethylaminoethyl methacrylate)-block-poly (methyl methacrylate) (POSS-b-PDMAEMA-b-PMMA) was synthesized by a two-step atom transfer radical polymerization (ATRP), and its assembly morphologies in different solvents were investigated. POSS-b-PDMAEMA-b-PMMA micelles were used to encapsulate tetraphenylethene (TPE) to study the effect of self-assembly shape on the fluorescent intensity and bioimaging of TPE. Spherical polymeric micelles enhanced the fluorescent intensity of TPE more than rod-like and necklace-like polymeric micelles while rod-like polymeric micelles had better intracellular uptake than spherical polymeric micelles.