01.09.2012 | Original Contribution | Ausgabe 14/2012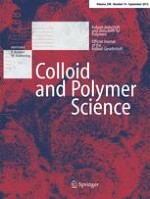 Synthesis and characterization of biodegradable and weather-durable PET/PEG/NDC copolymers
Zeitschrift:
Autoren:

Syang-Peng Rwei, Wei-Peng Lin, Jou-Fang Wang
Abstract
Polyethylene terephthalate/poly(ethylene glycol)/2, 6-naphthalene dicarboxylate (PET/PEG/NDC) copolymers were synthesized and characterized. The results demonstrated that
T
g
dramatically decreased—by approximately 20 °C—when 8 wt.% PEG was added to neat PET. However,
T
g
slightly increased—by around 6 °C—from the reduced value, when a third ingredient, NDC, was incorporated. The melting temperature
T
m
and fusion enthalpy △
H
m
decreased when the 8 wt.% PEG was copolymerized. Further incorporation of NDC into the PET/8 % PEG copolymer, after a small initial increase in
T
m
and △
H
m
for PET/8 % PEG/2.3 % NDC, caused substantially reduce in both properties for PET/8 % PEG/9.2 % NDC. A mechanical test revealed that PET/8 % PEG/NDC copolymers maintained high mechanical integrity until degradation, verifying that the inclusion of NDC enhances the weatherability of PET/PEG copolymer. The rheological Cole–Cole plots indicated the occurrence of phase separation in PET/PEG melt, but the incorporation of NDC suppressed this incompatibility. The biodegradation results indicated that the degradation comprised two stages—a period of rapid degradation, which was associated with the hydrolysis of PEG segments, and a period of slow degradation, which was caused by erosion of the short aliphatic segments by the microbes.