01.04.2013 | Research Paper | Ausgabe 4/2013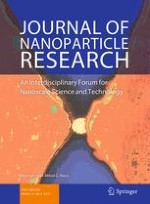 Synthesis and characterization of carboxymethyl cellulose/layered double hydroxide nanocomposites
Zeitschrift:
Autoren:

Mehdi Yadollahi, Hassan Namazi
Abstract
In this study, coprecipitation method was employed for intercalation of carboxy methyl cellulose (CMC) into hydrotalcite-like anionic clays (Mg/Al and Ni/Al). The synthesized nanocomposites were characterized using FTIR, XRD, TEM, and Thermo gravimetric analysis. Furthermore, their swelling behavior was studied at various pH values. The intercalation of Carboxymethyl cellulose polymeric chains into LDH sheets was confirmed by FTIR spectroscopy and XRD analysis. The
d
-values are 1.73 nm for the Mg–Al–CMC–LDH and 2.23 nm for the Ni–Al–CMC–LDH, supporting a multilayer arrangement of CMC into the LDH interlayer space. Thermo gravimetric analysis showed a better thermal resistance of CMC in the presence of LDH sheets, especially for Mg–Al–CMC–LDH. The obtained nanocomposites revealed a pH dependent swelling behavior. The swelling of the prepared nanocomposites increased slowly with increasing pH from 2 to 10. However, their swelling ratio increased sharply in the pH values above 10.