30.09.2016 | Ausgabe 12/2016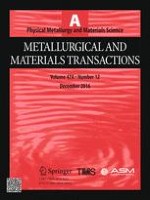 Synthesis and Characterization of
In Situ

Dendritic/Particulate

α

-Al(Fe,TM)Si Phase Reinforced Al Matrix Composites
Zeitschrift:
Autoren:

L. G. Hou, Shuai Wang, Z. B. He, D. Zhang, X. D. Wang, L. Z. Zhuang, J. S. Zhang
Wichtige Hinweise
Manuscript submitted July 2, 2015.
Abstract
The strength and ductility of transition metallic element alloyed Al alloys could be inevitably and severely weakened if these elements appeared as coarse intermetallics. Present studies aimed to optimize the morphologies and sizes of these intermetallics
via
composition design and process selection so as to decrease their detrimental effects to the properties. It is shown that the dendritic
α
-Al(Fe,TM)Si phase solidified as primary phase can be refined into small dendrites or micro- and submicro-sized particles
via
controlling the cooling rate and alloy composition, and this phase exhibits better heat resistance. After spark plasma sintering (SPS) the atomized alloy powders, the bulk aluminum matrix composites (AMCs) were successfully prepared and well strengthened by the uniformly distributed particulate
α
-Al(Fe,TM)Si phase. These sintered bulk composites also possess good heat resistance that might facilitate their application for some heat-resistant parts. The transmission electron microscope (TEM) and high-resolution TEM (HRTEM) results indicate these
α
-Al(Fe,TM)Si phases possesses body-centered-cubic structure with a lattice constant of 1.25 to 1.27 nm. The solidification or phase formation of these alloys is discussed as well as the densification process for the SPS of powders. The present studies indicate a possibility to prepare
in situ
small dendritic/particulate
α
-Al(Fe,TM)Si phase reinforced AMCs by using the casting process and controlling the normal impurity elements in Al alloys.