31.03.2016 | Original Paper | Ausgabe 12/2016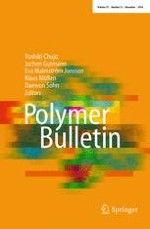 Synthesis and characterization of macroporous sodium alginate-
g

-poly(AA-

co

-DMAPMA) hydrogel
Zeitschrift:
Autoren:

Chengyi Wu, Dandan Wang, Huimin Wu, Youmeng Dan
Abstract
In this manuscript, the novel sodium alginate-
g
-poly [acrylic acid–
N
-(3-dimethylaminopropyl) methyl acrylamide] [NaAlg-
g
-P(AA-
co
-DMAPMA)] hydrogel was prepared using free radical polymerization. Fourier transform infrared spectroscopy (FT-IR), thermogravimetry (TG), point zero charge and scanning electron microscopy were used to investigate the structure, thermal stability, surface charge and microstructure of the hydrogel. The factors that affected the swelling ratio of the hydrogel were investigated in detail, such as pH and ionic strength; the results showed that the hydrogel has a favorable pH-sensitive property. To investigate drug loading and sustained release of NaAlg-
g
-P(AA-
co
-DMAPMA), rhodamine B as a model drug was loaded on NaAlg-
g
-P(AA-
co
-DMAPMA). The in vitro drug release study conducted at pH 1.86 and 6.86 shows that NaAlg-
g
-P(AA-
co
-DMAPMA) was suitable for colon-specific drug delivery systems.