01.08.2016 | Original Contribution | Ausgabe 8/2016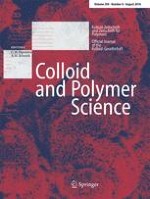 Synthesis and characterization of modified xanthan gum using poly(maleic anhydride/1-octadecene)
Zeitschrift:
Autoren:

Xiaojin Wang, Haipeng Xin, Yuejun Zhu, Wenjuan Chen, Engao Tang, Jian Zhang, Yebang Tan
Abstract
In this study, modified xanthan gum was prepared by esterification of xanthan gum (XG) with poly(maleic anhydride/1-octadecene) (PMAO) in order to improve the shearing and thermal degradation performance. The structure and molecular weight (
M
w
) of the modified xanthan gums (named as PX) and XG were characterized by FT-IR,
1
H NMR, and static light scattering. The radius of gyration (
R
g
) and hydrodynamic radius (
R
h
) of these polymers in aqueous solution were obtained by light scattering measurement. From thermal gravimetric analysis (TGA) measurements, PX and XG have similar thermal stability. According to rheological determinations, PX exhibits a more outstanding property of resistance to shear force and displays highly enhanced viscoelastic behaviors. Also, it is found that PX solution has better performance on salt tolerance and temperature resistance due to the cross-linkage between XG and PMAO. In addition, the mechanical shear degradation and thermal degradation data show that PX solution keeps higher viscosity than XG.