01.10.2011 | Ausgabe 20/2011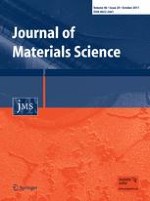 Synthesis and characterization of nanofiber webs of chitosan/poly(vinyl alcohol) blends incorporated with silver nanoparticles
Zeitschrift:
Autoren:

Thuy Thi Thu Nguyen, Beomseok Tae, Jun Seo Park
Abstract
Nanofiber webs of chitosan (CS)/poly(vinyl alcohol) (PVA) blends incorporated with silver nanoparticles (AgNs) were fabricated by two different methods: a refluxing method and an annealing method. We found that the characterization and antibacterial activity of AgNs depended on not only the fabrication methods but also the weight ratio of CS and PVA in the CS/PVA blend. The change in the size and number of AgNs due to the interaction between AgNs and CS, in turn, affected the antibacterial property of the non-woven webs. Non-woven webs of CS/PVA nanofibers containing AgNs that were fabricated by the refluxing method showed higher antibacterial ability against
Escherichia coli
than did the other types of non-woven webs. The morphology of the electrospun non-woven webs was observed by field emission scanning electron microscopy. The characterization of AgN formation on the surface of electrospun fibers was examined by transmission electron microscopy, attenuated total reflectance-Fourier transform infrared spectroscopy, and X-ray photoelectron spectroscopy.