01.06.2011 | Original Paper | Ausgabe 1/2011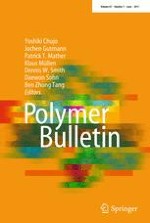 Synthesis and characterization of poly(aryl ether ketone)s with fluorinated phenyl in the side chain
Zeitschrift:
Autoren:

Juan Xie, Wei-ya Peng, Guang Li, Jian-ming Jiang
Abstract
New bisphenol monomers, (4-fluorophenyl)hydroquinone (
3b
) and (3,4-difluoro phenyl)hydroquinone (
3c
), were synthesized in a two-step synthesis. Poly(aryl ether ketone)s (PAEKs) (
4a
–
c
) were derived from these fluorinated bisphenols and nonfluorinated bisphenol—phenylhydroquinone (
3a
) with 4,4′-diflourobenzophenone via a nucleophilic aromatic substitution polycondensation. The obtained polymers had inherent viscosities of 0.50–0.92 dL/g. Thermal analysis showed that the obtained PAEKs had excellent thermal properties, the glass transition temperatures ranged from 148 to 160 °C, and the temperatures at 5% weight loss (Td
5
) were above 527 °C and the temperatures at 10% weight loss (Td
10
) were above 544 °C in nitrogen. All the polymers showed excellent solubility and could dissolve in common organic solvents, such as DMSO, NMP, DMF, etc. So the films of them were easily cast from their solutions, which possessed good mechanical properties, with tensile strengths of 95.2–104.0 MPa, Young's moduli of 2.68–3.06 GPa, and elongation at break of 15–32%. Furthermore, the prepared PAEKs displayed low dielectric constants (2.75–2.95 at 1 MHz) and hydrophobic character (contact angles for water: 83.9
o
–98.4
o
).