01.11.2017 | ORIGINAL PAPER | Ausgabe 12/2017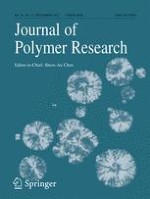 Synthesis and characterization of poly(butylene succinate)-reduced graphene oxide composite through in-situ melt polymerization
Zeitschrift:
Autoren:

Jun Mo Koo, Hun Park, Sung Yeon Hwang, Tae Hee Han, Seung Soon Im
Wichtige Hinweise
Electronic supplementary material
This article is part of the Topical Collection on
Bio-Based Polymers
Abstract
Reduced graphene oxide (rGO) was selected as a reinforcing filler to be incorporated in Polybutylene succinate (PBS) through in-situ melt polymerization where enhancing and interesting properties were observed. Dispersed rGO showed no chemical interaction with PBS matrix by showing constant glass transition temperature (Tg) and melting temperature (Tm) but clear indication of physical interaction was observed in increased tensile strength and elongation. With only 0.1 wt% of rGO, the tensile strength and the elongation at break were increased by 80% and 373%, respectively, compared to neat PBS. Regarding crystallization behavior of synthesized composites, thermal conducting effect of rGO was revealed to have an impact on crystallization process. Furthermore, through wide-angle X-ray diffraction (XRD), the rGO functioned as a defect during crystallization and affected (021) and (020).