09.12.2015 | Original Paper | Ausgabe 6/2016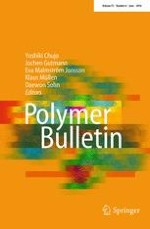 Synthesis and characterization of poly(styrene-
block

-

n

-butyl acrylate) pentablock copolymer via RAFT emulsion polymerization mediated by amphiphilic macroRAFT agent combined with pre-emulsion technology
Zeitschrift:
Autoren:

Xiaowei Fu, Kai Hu, Weibo Kong, Lixia Bao, Jiliang Wang, Jingxin Lei
Wichtige Hinweise
Electronic supplementary material
The online version of this article (doi:
10.​1007/​s00289-015-1569-z
) contains supplementary material, which is available to authorized users.
Abstract
Well-defined poly(styrene-
block
-
n
-butyl acrylate) pentablock copolymers were synthesized via RAFT (reversible addition-fragmentation chain transfer) emulsion polymerization with the combination of using a carefully designed amphiphilic macroRAFT at the nucleation stage and the pre-emulsion technology at the growth stage. The multiblock copolymers were produced within seven hours with narrow latex particle size distribution, high solid content and good latex stability. The thermal stability, thermal processability, microphase separation and mechanical properties of multiblock copolymers as well as corresponding random and blending (co)polymers were also investigated by thermogravimetric analysis (TG) instrument, Haake torque rheometer, differential scanning calorimetry (DSC) and scanning electron microscope (SEM), tensile and impact tests, respectively. The TG results revealed the multiblock copolymer has a good thermal stability with the initial decomposition temperature higher than 350 °C. Rheological results demonstrated that the multiblock copolymers have higher torque values than corresponding random and blending (co)polymers. DSC and SEM analysis denoted that there exists phase separation of multiblock and blending (co)polymers. For multiblock copolymer, the impact strength increased by 27.39 % to 7. 44 kJ m
−2
with the composition of 60 wt% of styrene units and 40 wt% of n-butyl acrylate units. The tensile strength of multiblock copolymer increased with the increase of styrene composition.