01.02.2011 | Ausgabe 4/2011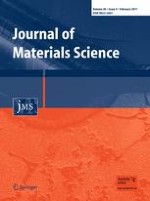 Synthesis and characterization of polyamide-6/graphite oxide nanocomposites
Zeitschrift:
Autoren:

Yan Liu, Zhenming Chen, Guisheng Yang
Abstract
Polyamide-6/graphite oxide (PA6/GO) nanocomposites were synthesized using delamination/absorption method. The morphologies of the composites were characterized by X-ray diffraction (XRD), scanning electron microscopy (SEM), and transmission electron microscopy (TEM). Both XRD and TEM showed that the GO sheets were completely exfoliated and distributed uniformly in PA6 matrix. Differential scanning calorimetry results revealed that the crystallization temperatures of the composites increased compared to that of pristine PA6, which was due to the heterogeneous nucleating effect of GO. However, the half-time of crystallization of the composites were evidently longer than that of pristine PA6, indicating an apparent decrease in the crystallization rate when GO was loaded into the polymer matrix. This was due to the constraining effect of layered GO on PA6 chains. The temperature of maximum decomposition rate was increased by 53 °C only by adding 5 wt% GO, and the maximum decomposition rate of the nanocomposites reduced greatly. The storage modulus (
G
′) and loss modulus (
G
″) curves shifted to higher modulus upon addition of 1–5 wt% of GO. With increasing GO loading, the shear viscosity of the nanocomposites gradually increased compared with pure PA6.