01.03.2015 | Original Paper | Ausgabe 3/2015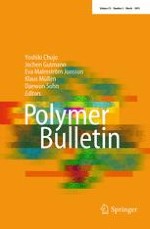 Synthesis and characterization of polyamidoamine conjugates of neridronic acid
Zeitschrift:
Autoren:

B. A. Aderibigbe, E. R. Sadiku, S. Sinha Ray, X. Y. Mbianda, M. C. Fotsing, S. C. Agwuncha, S. J. Owonubi
Abstract
Polyamidoamine conjugates of neridronic acid were synthesized by a one-pot aqueous phase Michael addition reaction of
N
,
N
′-methylenebisacrylamide with selected primary and secondary amines and neridronic acid. This reaction involved the use of water and it was performed at room temperature thereby making the reaction environmentally friendly and economically viable. These conjugates are potential prodrugs and they were characterized by nuclear magnetic resonance spectroscopy (NMR), Fourier transform spectroscopy (FTIR), X-ray diffraction (XRD), scanning electron microscope (SEM) and energy-dispersive X-ray analysis (EDX). NMR, TGA, XRD and FTIR confirmed the successful incorporation of the bisphosphonate on to the carriers. The mass percentage incorporation of neridronic acid was found to be between 0.9 and 3.74 percent.
31
P NMR exhibited the signal peak for the bisphosphonate at 19.0 ppm.