04.11.2017 | Original Contribution | Ausgabe 1/2018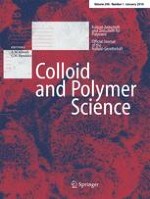 Synthesis and characterization of polyelectrolytes based on benzotriazole backbone
Zeitschrift:
Autoren:

Yueqin Shi, Yaguang Kong, Lihui Song, Jun Zhang, Zhenguo Ji, Ziyi Ge
Wichtige Hinweise
Electronic supplementary material
Abstract
Suzuki coupling and Ni-catalyzed Yamamoto polymerizations were used to prepare conjugated polyelectrolytes based on n-type benzothiadiazole and benzotriazole unit backbone via a one-step synthesis, which started from their monomers with charged pendant ends. PBTBTz-SO
3
Na synthesized by Suzuki coupling polymerization showed a high
M
n
value of 94 kDa, starting from the bilateral brominated benzotriazole and diboronic ester benzothiadiazole. The PBTBTz-SO
3
Na revealed aggregation phenomenon at the status of diluted solutions at optical absorption spectroscopy results. Dynamic light scattering (DLS) measurement provided evidence of negative solvatochromic effects of PBTBTz-SO
3
Na chains in solvents with lower polarity. While, PBTz-PyrBr, PBTz-TMABr, and PBTz-SO
3
Na which synthesized from Ni-catalyzed Yamamoto polymerizations of bilateral brominated benzotriazole units revealed higher molecular weight with PBTz-PyrBr,
M
n
= 112 kDa; PBTz-TMABr,
M
n
= 157 kDa; and PBTz-SO
3
Na,
M
n
= 172 kDa, respectively. The ionic pendant groups of monomers have influence on the molecular weight of polymer based on benzotriazole backbone. The optical absorption spectroscopy and DLS measurements presented the negative solvatochromic effects of cationic-CPEs, PBTz-PyrBr, and PBTz-TMABr. Moreover, the UV-vis absorption of PBTz-TMABr displayed higher wavelength of solution (0.0167 mg/mL) than that of film, which was coated from its solution with concentration of 5 mg/mL. These studies displayed insights into the role of pendant ionic functionalities on the molecular weight and optoelectronic properties of the CPEs, which may find application in optoelectronic devices.