01.12.2010 | Original Paper | Ausgabe 9/2010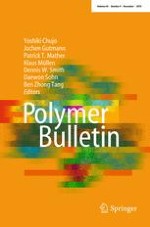 Synthesis and characterization of side-chain poly(methacrylate)s bearing new azo-moieties
Zeitschrift:
Autoren:

Florica Adriana Nicolescu, Valentin Victor Jerca, Dumitru Mircea Vuluga, Dan Sorin Vasilescu
Abstract
New side-chain poly(methacrylate)s with azo moieties were prepared by free radical copolymerization, starting from methyl methacrylate (MMA) and some original azo-monomers. The chromophore content was evaluated from
1
H-NMR spectroscopy and elemental analyses; all structures exhibited a high content of azobenzene units. UV–Vis measurements have also supported this fact. Reactivity ratios for the methacrylate systems and their corresponding
Q
–
e
values were calculated based on several initial feed compositions (MMA and the newly synthesized azo-monomers) using an integral method with its appropriate software. The polymers were also characterized by FTIR, SEC and DSC-TGA techniques. The coloured poly(methacrylate)s exhibited glass transition temperatures between 141 and 168 °C and thermal stabilities up to 306 °C.