11.01.2020 | Research Article-Chemistry | Ausgabe 6/2020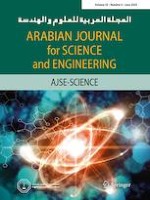 Synthesis and Characterization of Ti–Fe Oxide Nanomaterials: Adsorption–Degradation of Methyl Orange Dye
Zeitschrift:
Autoren:

Buzuayehu Abebe, H. C. Ananda Murthy, Yilkal Dessie
Wichtige Hinweise
Electronic supplementary material
Abstract
Organic solvent-free impregnation method was used to synthesize titanium-iron oxides (TIOs) nanomaterial. The physical properties of synthesized TIOs materials were characterized by XRD, SEM–EDX, BET, UV–Vis, and FTIR analytical techniques. The appearance of iron oxide (IO) on SEM image, XRD, and EDX spectra, the redshift on UV–Vis spectra of TIO compared to titanium oxide (TO), and intensity reduction in FTIR spectra proves the good impregnation of IO in TO lattice. The Langmuir and Dubinin–Radushkevich adsorption isotherm test in the dark show the domination of physical adsorption. Furthermore, the Flory–Huggins isotherm model that has
\(\Delta G\)
 = −11.40 kJ/mol and Fowler–Guggenheim model that has
\(w\)
 = −106.5 kJ/mol confirm the spontaneity of the reaction and the presence of adsorbate–adsorbate repulsive interaction, respectively. The passing of the linear Weber–Morris intraparticle adsorption–diffusion plot through the origin and well-fitting of its coefficient of determination (
R
2
) value relative to pseudo-first-order indicates the domination of adsorption–diffusion mechanism. On the methyl orange degradation experiment, as the percentage of IO increases from 4 to 12, its degradation efficiency decreases, i.e., TIO with 4% calcined at 500 °C (TIO-4) has higher degradation efficiency with
k
values of 0.03025.