08.05.2019 | Ausgabe 18/2019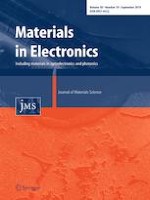 Synthesis and characterization of tunable color upconversion luminescence
β

-NaGdF4:Yb3+,Er3+ nanoparticles
Autoren:

L. U. Khan, Z. U. Khan, R. V. Rodrigues, L. S. da Costa, Magnus Gidlund, H. F. Brito
Wichtige Hinweise
Electronic supplementary material
Publisher's Note
Springer Nature remains neutral with regard to jurisdictional claims in published maps and institutional affiliations.
Abstract
The visible green and red upconversion luminescence hexagonal phase Er
3+
and Yb
3+
doped NaGdF
4
nanoparticles of different sizes and morphologies were prepared through high temperature RE
3+
ions/oleic acid based organometals and hydrothermal methods, respectively. Their microstructural characterizations were accomplished using X-ray powder diffraction, X-ray photoelectron spectroscopy, transmission electron microscopy and Raman spectroscopy analyses. High resolution transmission electron microscopy (HR-TEM) images suggested spherical ultra-small nanocrystals of 6.4 nm for the green luminescence
β
-NaGdF
4
:Yb
3+
,Er
3+
and oval/mostly rod shapes particles of ~ 40 nm width and ~ 100 nm length for the red emitting one. The same hexagonal (
β
-NaGdF
4
) local structure was confirmed from the selected area electron diffraction (SAED), in corroboration with XRD patterns for both sizes and shapes nanoparticles. Raman scattering result exhibited red Raman shifts of lattice peaks and anomalous line narrowing with decreasing the particle size from ~ 100 to ~ 6.4 nm. The photoluminescence spectroscopy manifested higher intensity
2
H
11/2
 → 
4
I
15/2
and
4
S
3/2
 → 
4
I
15/2
(green emission) transitions of Er
3+
ion for ultra-small nanocrystals and dominant
4
F
9/2
 → 
4
I
15/2
(red emission) one for the large size nanorods. The change in size of the particles might be account for the observed tuning in upconversion emission.