04.09.2018 | Ausgabe 1-4/2018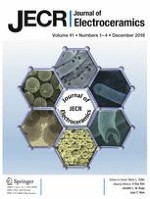 Synthesis and electrical properties of 0.65Bi1.05Fe1-

x

Ga

x

O3–0.35BaTiO3 piezoceramics by air quenching process
Zeitschrift:
Autoren:

Salman Ali Khan, Rizwan Ahmed Malik, Fazli Akram, Ali Hussain, Tae-Kwon Song, Won-Jeong Kim, Myong-Ho Kim
Abstract
In this work, lead-free piezoelectric ceramics 0.65Bi
1.05
Fe
1-

x
Ga
x
O
3
–0.35BaTiO
3
, where
x
 = 0, 0.01, 0.02, 0.025, and 0.03 abbreviated as BFG–BT have been synthesized by a conventional solid-state reaction followed by air quenching process. The effects of Ga on crystal structure, microstructure and electric properties of the ceramics have been investigated. X-ray diffraction analysis showed that Ga addition into BF-BT ceramics caused no significant change in crystal structure. However, improvements in ferroelectric, dielectric and piezoelectric properties were obtained at the optimum composition of Ga addition in BF-BT ceramics. A static piezoelectric constant of
d
33
 = 145 pC/N with high Curie temperature
T
C
 = 452 °C were obtained at 2 mol% Ga modified BF–BT ceramics.