24.04.2020 | Electronic materials | Ausgabe 22/2020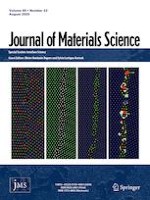 Synthesis and electrochemical performance of gold nanoparticles deposited onto a reduced graphene oxide/nickel foam hybrid structure for hydrazine detection
Zeitschrift:
Autoren:

Wenda Wang, Zhenting Zhao, Haoyue Yang, Pengwei Li, Zhichao Yu, Wendong Zhang, Jian Shi, Jie Hu, Yong Chen
Wichtige Hinweise
Electronic supplementary material
Publisher's Note
Springer Nature remains neutral with regard to jurisdictional claims in published maps and institutional affiliations.
Abstract
In this paper, an ultrahigh sensitive hydrazine electrochemical sensor based on gold nanoparticles integrated into a reduced graphene oxide/nickel foam (AuNPs-rGO@NF) hybrid structure was synthesized using a facile coating and electrochemical deposition method. The morphology and elemental composition of the as-synthesized AuNPs-rGO@NF structure was comprehensively investigated. Both cyclic voltammetry and potential amperometry results show the optimum AuNPs-rGO@NF sensor exhibits excellent electrochemical performances including higher sensitivity (14.635 μA μM
−1
cm
−2
), lower limit of detection (0.056 μM;
S
/
N 
= 3), wider linear detection range (0.2–200 μM), good selectivity and long-term stability. Meanwhile, the results of real sample analysis indicate the AuNPs-rGO@NF sensor has great potential for practical electrochemical hydrazine sensing applications.