27.06.2017 | Original Contribution | Ausgabe 9/2017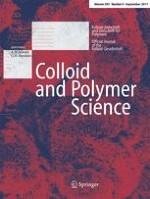 Synthesis and gelation capability of mono- and disubstituted cyclo(
L

-Glu-

L

-Glu) derivatives with tyramine, tyrosine and phenylalanine
Zeitschrift:
Autoren:

Lu Wang, Xin Hui, Huimin Geng, Lin Ye, Ai-ying Zhang, Ziqiang Shao, Zeng-guo Feng
Wichtige Hinweise
Electronic supplementary material
The online version of this article (doi:
10.​1007/​s00396-017-4120-y
) contains supplementary material, which is available to authorized users.
Abstract
A series of mono- and disubstituted glutamic cyclic dipeptide derivatives (cyclo(L-Glu-Glu)s) with tyramine, tyrosine, and phenylalanine (
3
–
12
) were synthesized and investigated as organo- and hydrogelators. Unexpectedly, both tyramine mono- and disubstituted cyclo(L-Glu-Glu)s showed no gelation toward all the selected organic solvents, phosphate-buffered saline (PBS), and water. However, those
t
-butyloxy (O
t
Bu) protecting tyrosine and phenylalanine mono- and disubstituted cyclo(L-Glu-Glu)s in general presented a diversified gelation capability. Interestingly, the O
t
Bu protecting tyrosine monosubstituted
10
enabled to gel PBS and water featuring a minimum gel concentration (MGC) of 1.0 and 2 wt% at room temperature, respectively. Furthermore, its hydrogelation in PBS can sustain to 44 °C at a concentration of 3 wt% under ultrasonication. After the deproction of O
t
Bu groups, the phenylalanine monosubstituted
8
and tyrosine disubstituted
11
are only capable of gelling acetone showing a MGC of 2.0 and 3.0 wt%. A variety of self-assembled fibrous 3D networks were visible in the resulting organo- and hydrogels by TEM and SEM observations. Rheological measurements demonstrated the viscoelastic characteristics of all the gels. FTIR and fluorescence analyses also revealed that the intermolecular hydrogen bonding and π–π stacking interactions jointly play as major driving forces to promote those tyrosine and phenylalanine monosubstituted cyclo(L-Glu-Glu)s to self-assemble into intermeshing 3D network structures immobilizing a vast amount of organic solvent molecules. It was noted that a careful balance between the hydrophilicity and hydrophobicity as well as the hydrogen bonding interactions in
10
make a great contribution to the hydrogelation process.