01.03.2015 | Original Contribution | Ausgabe 3/2015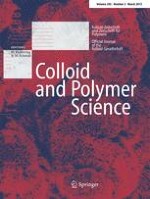 Synthesis and micellization properties of triblock copolymers PDMAEMA-
b

-PCL-

b

-PDMAEMA and their applications in the fabrication of amphotericin B-loaded nanocontainers
Zeitschrift:
Autoren:

Ivonne L. Diaz, Leon D. Perez
Abstract
In this study, we report the synthesis of PDMAEMA-
b
-PCL-
b
-PDMAEMA via ATRP starting from two dibromide-end polycaprolactone (PCL) of 2 and 10 kDa. The copolymerization was confirmed by nuclear magnetic resonance and gel permeation chromatography. The micellar properties of copolymers with different compositions were studied at pH 5.0, 6.0, 7.0, and 7.5. According to results, properties such as critical micellar concentration (CMC), hydrophobicity of micelle cores, and particle size strongly depend on the length of PCL. The pH shows an important effect on the size of the colloidal aggregates. Micelles obtained from copolymers with the lowest polymerization degree of both segments showed to be more appropriate for the encapsulation of amphotericin B (AmB).