01.10.2011 | Ausgabe 20/2011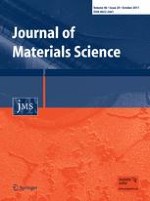 Synthesis and morphology of new functional polyimide/titania nano hybrid materials
Zeitschrift:
Autoren:

Hojjat Seyedjamali, Azadeh Pirisedigh
Abstract
The synthesis and full characterization of 3,5-diamino-
N
-(1-oxo-3-phenyl-1-(phenylamino)propan-2-yl)benzamide (
5
), as a new diamine monomer containing
l
-phenylalanine fractions in the structure of pendant group is presented. The stated diamine is employed as a key monomer for the in situ sol–gel fabrication of polyimide/titania nano hybrid thin films containing different titania contents. It is shown that titania particles are created in the size range of 20–80 nm, well-dispersed and enjoy the favorable spherical shapes supposing the constructive organic–inorganic interactions. The superior thermal stabilities of resulted nanocomposite films are confirmed using thermal analysis techniques. Moreover, the UV–Vis spectroscopy has shown the growing up in blocking efficiency along with the increase in titania contents. Predictably, the produced titania nanoparticles have amorphous structures.