16.11.2016 | Ausgabe 5/2017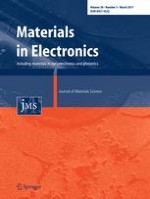 Synthesis and performance study of amino functionalized graphene aerogel grafted with polyaniline nanofibers as an efficient supercapacitor material
Autoren:

Hossein Mahdavi, Peyman Khodaei Kahriz, Habib Gholipour-Ranjbar, Taieb Shahalizade
Wichtige Hinweise
Electronic supplementary material
The online version of this article (doi:
10.​1007/​s10854-016-6053-5
) contains supplementary material, which is available to authorized users.
Abstract
Supercapacitors are one of the most promising solutions for modern life high-power storage applications. It can be expected that supercapacitors facilitate storing higher amount of electrical energy and its controlled release. In the present work, amino functionalized graphene aerogel incorporated into different amounts of polyaniline nanofibers (FGA–PANi) through a simple procedure and their electrochemical properties were investigated. Amino functionalized graphene aerogel (FGA) was obtained by simultaneous reduction and cross-linking of graphene oxide sheets by
p
-phenylenediamine, then PANi nanofibers grafted to the lately generated amine groups by interfacial polymerization. The applied procedure consists of three quite facile steps, which is faster and more scalable than the previous studies. Morphological and chemical characteristics of nanocomposites revealed successful grafting of PANI nanofibers to the FGA. Electrochemical properties of the samples were investigated by cyclic voltammetry, galvanostatic charge/discharge and electrochemical impedance spectroscopy methods in 1 M H
2
SO
4
as electrolyte. The nanocomposite with the high ratio of PANI (FGA–PANi-3) exhibited specific capacitance of 560 F/g at a discharge current density of 1 A/g and good rate capability (473 F/g at 10 A/g). Moreover, FGA:PANi nanocomposite with the mass ratio of 1:1 exhibited best cycling performance by maintaining 85% of its initial capacitance after 1500 cycles.