01.11.2017 | ORIGINAL PAPER | Ausgabe 12/2017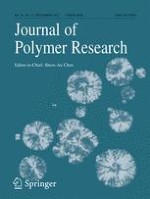 Synthesis and photo-controllable thermosensitivity of poly(
N

-isopropylacrylamide) terminated with dimethylaminochalcone unit
Zeitschrift:
Autoren:

Qiujing Dong, Chunhua Luo, Honglai Hu, Qingqing Zhang, Suhua Fan
Wichtige Hinweise
Electronic supplementary material
Abstract
Poly(N-isopropylacrylamide) terminated with dimethylaminochalcone unit (DMAC-terminated PNIPAM) were prepared by reversible addition-fragmentation chain transfer polymerization using dimethylaminochalcone-functionalized trithiocarbonate (TTC-DMAC) as chain transfer agent. Photodimerization of DMAC-terminated PNIPAM was confirmed by UV-Vis, fluorescence and GPC measurements. The lower critical solution temperature (LCST) of DMAC-terminated PNIPAM first increases and then decreases with increasing molecular weight. When subjected to 365 nm UV irradiation, a large increase of the LCST of DMAC-terminated PNIPAM has been observed especially in the polymer with low molecular weight. Furthermore, the LCST increases with increasing time of 365 nm UV irradiation, which shows photo-controllable thermosensitivity of DMAC-terminated PNIPAM.