07.03.2019 | Original Paper: Nano-structured materials (particles, fibers, colloids, composites, etc.) | Ausgabe 2/2019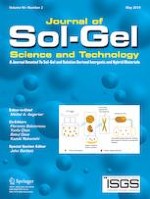 Synthesis and photocatalytic performance of a novel hollow network Fe3O4/SiO2/meso-TiO2 (FSmT) composite microspheres
Zeitschrift:
Autoren:

Qun-Yan Li, Haiwei Sun, Shibing Sun, Jun-Guo Liu, Su-Ping Cui, Zuo-Ren Nie
Wichtige Hinweise
Publisher's note:
Springer Nature remains neutral with regard to jurisdictional claims in published maps and institutional affiliations.
Abstract
A novel hollow network magnetic Fe3O4/SiO2/meso-TiO2 (FSmT) composite microsphere photocatalyst, with network Fe3O4 nanorods as a magnetic layer, a dense SiO2 layer as an electronic barrier, and a mesoporous TiO2 as the active layer, was synthesized by sol–gel and hydrothermal process. The as-synthesized FSmT microspheres possess a high specific surface area (122 m2/g), a large mesoporous size (diameter = 5.47 nm), and pore volume (0.27 cm3/g). Further, the photocatalytic activity of the FSmT microspheres for methyl orange degradation was demonstrated and the degradation rate of methyl orange could reach up to 93.5% after 1 h under UV light. The good photocatalytic activity was attributed to the hollow network and mesoporous composite structures. The FSmT microspheres could be separated conveniently and well redispersed for further reuse because of their excellent magnetic property (Ms = 11.4 emu/g).
×