01.02.2011 | Short Communication | Ausgabe 3/2011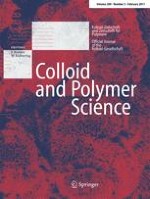 Synthesis and physicochemical properties of cationic microgels based on poly(
N

-isopropylmethacrylamide)
Zeitschrift:
Autoren:

Xiaobo Hu, Zhen Tong, L. Andrew Lyon
Abstract
Surfactant-free, radical precipitation copolymerization of
N
-isopropylmethacrylamide and the cationic co-monomer
N
-(3-aminopropyl) methacrylamide hydrochloride (APMH) was carried out to prepare microgels functionalized with primary amines. The morphology and hydrodynamic diameter of the microgels were characterized by atomic force microscopy and photon correlation spectroscopy, with the effect of NaCl concentration and initiator type on the microgel size and yield being investigated. When a 2,2′-azobis (2-amidinopropane) dihydrochloride (V50)-initiated reaction was carried out in pure water, relatively small microgels (∼160 nm in diameter) were obtained in low yield (∼20%). However, both the yield and size increased if the reaction was carried out in saline or by using ammonium persulfate as initiator instead of V50. Stable amine-laden microgels in the range from 160 to 950 nm in diameter with narrow size distributions were thus produced using reaction media with controlled salinity. Microgel swelling and electrophoretic mobility values as a function of pH, ionic strength, and temperature were also studied, illustrating the presence of cationic sidechains and their influence on microgel properties. Finally, the availability of the primary amine groups for post-polymerization modification was confirmed via modification with fluorescein-
N
-hydroxysuccinamide.