01.10.2011 | Ausgabe 20/2011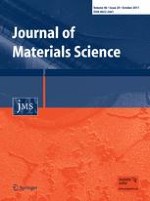 Synthesis and properties of LaNi1−

x

Fe

x

O3−δ as cathode materials in SOFC
Zeitschrift:
Autoren:

Nipaka Sukpirom, Sirinoot Iamsaard, Sumittra Charojrochkul, Jinda Yeyongchaiwat
Abstract
The synthesis of LaNi
1

−

x
Fe
x
O
3

−

δ
(LNF) perovskites with
x
= 0.0–1.0, for use as cathode materials for an IT-SOFC, was investigated using four combustion methods, Water Citrate (WC), Modified Water Citrate (MWC), Nitric Citrate (NC), and Modified Nitric Citrate (MNC). The structures and homogeneities of the synthesized powders were examined using an XRD, and the particle sizes were examined using an SEM and a particle size analyzer. All four combustion methods gave the single phase perovskites with the same structure. The main difference was shown in a particle size that the smallest to the largest sizes were obtained from MNC, MWC, NC, and WC, respectively. In this LNF series, as
x
is 0–0.5, the crystal structure is cubic and rhombohedral at the calcination temperature of 700 and 900 °C, respectively. Further investigation indicated that the cubic structure changed to rhombohedral structure at 900 °C, and was stable up to 1200 °C. As
x
is 0.6–1.0, the crystal structure is in orthorhombic phase when calcined between 700 and 1000 °C. This orthorhombic phase decomposed above 1100 °C. From the XRD and SEM–EDX results, LaNi
0.6
Fe
0.4
O
3−δ
(LNF64) has a good chemical compatibility with 8YSZ from room temperature up to 900 °C. In addition, its thermal expansion coefficient is 13.2 × 10
−6
K
−1
close to that of 8 mol% Y
2
O
3
(8YSZ). Therefore, LNF64 also has a good physical compatibility with 8YSZ.