01.02.2013 | Original Paper | Ausgabe 2/2013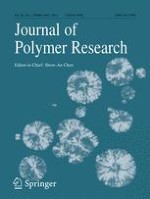 Synthesis and properties of novel random copolymers of poly(ether ketone ether ketone ketone)–poly(ether ketone imide)
Zeitschrift:
Autoren:

Bin Huang, Yongfeng Sun, Guixia Wang, Mingzhong Cai
Abstract
Bis[4-(
p
-phenoxybenzoyl)-1,2-benzenedioyl]-
N
,
N
,
N
',
N
'-4,4'-diaminodiphenyl ether (BPBDADPE) was prepared by the Friedel-Crafts acylation reaction of diphenyl ether (DPE) with bis(4-chloroformyl-1,2-benzenedioyl)-
N
,
N
,
N
',
N
'-4,4'-diaminodiphenyl ether (BCBDADPE). Novel random copolymers of poly(ether ketone ether ketone ketone)(PEKEKK)–poly(ether ketone imide)(PEKI) were synthesized by the modified electrophilic Friedel-Crafts copolycondensation of terephthaloyl chloride (TPC) with a mixture of 4,4'-diphenoxybenzophenone (DPOBPN) and BPBDADPE, over a wide range of DPOBPN/BPBDADPE molar ratios, in the presence of anhydrous aluminum chloride and
N
-methylpyrrolidone (NMP) in 1,2-dichloroethane (DCE). The random copolymers with 10–40 mol% BPBDADPE are semicrystalline and had much higher
T
g
s than those of the conventional PEEK and PEKK due to the incorporation of imide linkages in the main chains. The copolymers IV and V with 30–40 mol% BPBDADPE had not only high
T
g
s of 185–188 °C, but also moderate
T
m
s of 338–340 °C, having good potential for melt processing. The copolymers IV and V had tensile strengths of 102.1–105.3 MPa, Young's moduli of 2.22–2.43 GPa, and elongations at break of 14.1–15.9 % and exhibited high thermal stability and good resistance to organic solvents.