01.01.2015 | Ausgabe 1/2015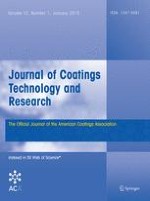 Synthesis and properties of polyurethane acrylate modified by different contents of stearyl alcohol
Zeitschrift:
Autoren:

Lili Qin, Jun Nie, Yong He
Abstract
Polyurethane acrylates (PUAs) modified by different amounts of stearyl alcohol were synthesized from stearyl alcohol (SA), isophorone diisocyanate, 2-hydroxyethyl acrylate, and polycaprolactone triol. The molecular structure was characterized by Fourier transform infrared spectroscopy. Real time infrared spectroscopy was used to investigate the kinetics of photopolymerization of synthesized PUAs. The volume shrinkage was measured by laser displacement sensor. The adhesion on glass, polycarbonate (PC), and polyvinyl chloride (PVC) was tested by the laser micrometer and universal testing machine. The glass transition temperature (
T
g
) and storage modulus (
E
′) were measured by dynamic mechanical analyzer (DMA). The pendulum hardness, pencil hardness and flexibility were also measured. The results showed that the greater the amount of SA in synthesized PUAs, the lower the volume shrinkage and the better the adhesion to glass, PC, and PVC substrates.