05.01.2016 | Ausgabe 3/2016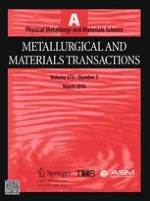 Synthesis and Properties of Pulse Electrodeposited Lead-Free Tin-Based Sn/ZrSiO4 Nanocomposite Coatings
Zeitschrift:
Autoren:

Sumit Bhattacharya, Ashutosh Sharma, Siddhartha Das, Karabi Das
Wichtige Hinweise
Manuscript submitted April 11, 2015.
Abstract
The Sn-based ZrSiO4 nanocomposite coatings have been synthesized by pulse co-electrodeposition technique from an aqueous electrolyte containing SnCl2·2H2O, C6H17N3O7, Triton X, and varying amounts of nano-sized ZrSiO4 particles (0, 5, 10, 15, 20, 25, 30, and 35 g/L). As-deposited films have been analyzed using X-ray diffraction, scanning electron microscope equipped with an energy dispersive X-ray spectrometer, and transmission electron microscope. The microhardness, wear as well as corrosion property of the coatings have been also evaluated. It is observed that the surface morphology of Sn-ZrSiO4 nanocomposite coatings is strongly dependent on the reinforcement concentration in the electrolyte, and the Sn-ZrSiO4 nanocomposite solder deposited from the electrolyte containing 25 g/L ZrSiO4 yields the highest hardness and the best wear and corrosion property among all the synthesized samples. The whisker growth propensity of the developed Sn-ZrSiO4 nanocomposites has also been examined after 90 days of aging at room temperature and reported here.