01.10.2011 | Ausgabe 19/2011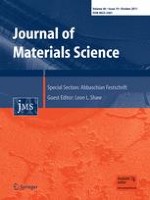 Synthesis and property study on Eu(III) complexes of modified poly(
N

-isopropylacrylamide)
Zeitschrift:
Autoren:

Xiangdong Tao, Ran Zhang, Zhengguo Gao, Toshifumi Satoh, Toyoji Kakuchi, Qian Duan
Abstract
Poly(
N
-isopropylacrylamide) with aromatic end groups (Ar-PNIPAM) were synthesized by atom transfer radical polymerization of
N
-isopropylacrylamide in isopropanol using phenyl 2-chloropropionate, (4′-phenyl)phenyl 2-chloropropionate, and (2′,6′-diphenyl)phenyl 2-chloropropionate as initiators and CuCl/tris(2-dimethylaminoethyl)amine (Me
6
TREN) as a catalytic system. The resulting polymers had narrow polydispersity index of 1.10–1.14 and molecular weights of 3700–4600 g mol
−1
. Then, novel functional complexes of Ar-PNIPAM, Europium(III) (Eu(III)), and α-Thenoyltrifluoroacetone (TTA) (Ar-PNIPAM/Eu(III)/TTA) with thermosensitive and fluorescent properties were synthesized and characterized by Fourier transform infrared spectra and fluorescence spectroscopy. Metal Eu(III) was not only bonded to oxygen and nitrogen atoms of polymer chain in PNIPAM, but also bonded to TTA. The maximum emission intensity of the complexes at 613 nm was enhanced about 22, 27, 33 times compared with that of the corresponding Eu(III). The lower critical solution temperatures (LCSTs) of Ar-PNIPAM/Eu(III)/TTA were slightly greater compared with that of PNIPAM. Eu(III) complexes had excellent fluorescence performance, the fluorescence spectrum presented characteristic emission of Eu(III) at 613 nm.