01.12.2009 | Mesostructured Materials | Ausgabe 24/2009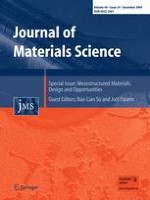 Synthesis, characterization and catalytic behavior of SnTf/MCM-41 and SnTf/UVM-7 as new green catalysts for etherification reactions
Zeitschrift:
Autoren:

Vasile I. Pârvulescu, Simona M. Coman, Natalia Candu, Jamal El Haskouri, Daniel Beltrán, Pedro Amorós
Wichtige Hinweise
6th International Mesostructured Materials Symposium, September 8–11, 2008, Namur, Belgium.
Abstract
Strong Lewis acid SnTf-MCM-41 and SnTf-UVM-7 catalysts with unimodal and bimodal pore systems were prepared in a two-step synthesis in which the triflic acid (OTf) was incorporated into previously synthesized mesoporous tin-containing silicas. The Sn incorporation inside the pore walls was carried out through the Atrane method. The SnTf-UVM-7 catalysts were prepared by aggregating nanometric mesoporous particles defining a hierarchic textural-type additional pore system. Catalysts with different Si/Sn ratios in the range 21.8–50.8 for SnTf-MCM-41 and 18.4 for SnTf-UVM-7 were found to be efficient catalysts for the etherification of primary alcohols to symmetrical long chain ethers and the selective etherification of ethylene glycol with 1-octanol to nonionic surfactants structures. The processes are green, environmentally safe, and heterogeneous.