06.04.2018 | Chemical routes to materials | Ausgabe 13/2018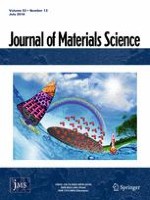 Synthesis, characterization and evaluation of resin-based carbon spheres modified by oxygen functional groups for gaseous elemental mercury capture
Zeitschrift:
Autoren:

Changming Zhang, Wen Song, Xiaochao Zhang, Rui Li, Songjian Zhao, Caimei Fan
Wichtige Hinweise
Electronic supplementary material
Abstract
A novel resin-based spherical carbon material was successfully prepared by suspension polymerization of alkyl phenol and formaldehyde and steam activation in combination with surface modification by heat treatment with dry air for enhancing Hg0 adsorption. The analysis results demonstrate that the oxidation-modified activated carbon spheres possess better mercury removal performance than untreated sorbents, and the ACS-O300 obtained by oxidation modified at 300 °C is the optimal sorbent at the adsorption temperature range from 25 to 150 °C. The main reason is assigned to the increase of the oxygen functional groups of C=O and C(O)–O–C that play an important role as effective active sites for binding the Hg0, even though the C(O)–O–C predominates in mercury removal performance under higher adsorption temperature. The optimum O2 concentration is 4 vol% at the O2 concentration range from 0 to 8 vol%. SO2 and NO are favorable to the mercury adsorption under 4 vol% O2, while H2O leads to the inhibition of the mercury adsorption. The TPD results suggest that a strong desorption peak at temperature around 235 °C and a weak peak at 324 °C should generate from mercury desorption of C = O and C(O)–O–C, correspondingly. Moreover, the XPS analysis results of the fresh and used sorbent indicates that the C=O and C(O)–O–C serve as strong oxidizer and facilitate electron transfer for converting Hg0 to Hg2+ in the chemisorption process. These results suggest that the obtained resin-based spherical porous carbon (ACS-O300) is promising for Hg0 capture.