01.02.2013 | Original Paper | Ausgabe 2/2013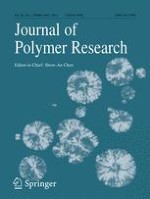 Synthesis, characterization, and micellization of cholesteryl-modified amphiphilic poly(
L

-lactide)-

block

-poly(glycidyl methacrylate) as a nanocarrier for hydrophobic drugs
Zeitschrift:
Autoren:

Massoumeh Bagheri, Forough Motirasoul
Abstract
The biodegradable polymer cholesteryl-(
L
-lactic acid)
50
, CLA
50
, was synthesized via ring-opening polymerization of
L
-lactide in the presence of cholesterol as an initiator and a catalytic amount of Sn(Oct)
2
. The resulting monohydroxyl-terminated CLA
50
was subsequently converted to a bromine-ended macroinitiator (CLA
50
–Br) by esterification with 2-bromisobutyryl bromide. The amphiphilic diblock copolymer CLA
50
-b-PGMA was then synthesized via atom transfer radical polymerization of glycidyl methacrylate (GMA). The resulting polymers were characterized by FTIR,
1
H NMR, GPC, and DSC. Polymeric micelles were prepared by the co-solvent evaporation method. The aqueous self-assembly of the copolymer CLA
50
-b-PGMA was investigated by TEM and DLS. Using naproxen as a hydrophobic model drug, drug-loaded micelles were prepared. TEM images of naproxen-loaded micelles of the copolymer (which exhibited a loading efficiency of 76.5 % and a loading capacity of 15.3 %) showed that the micelles were spherical and had diameters of 29–40 nm. An in vitro release study of naproxen was performed using the dialysis method in a phosphate-buffered solution at 37 °C. According to the results obtained in this work, these polymeric micelles could be tailored (by modifying the copolymer composition and molecular weight of blocks) to act as effective drug carriers that facilitate the release of various drugs.