01.11.2016 | Original Paper | Ausgabe 1/2017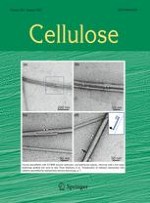 Synthesis, characterization and properties of pineapple peel cellulose-
g

-acrylic acid hydrogel loaded with kaolin and sepia ink
Zeitschrift:
Autoren:

Hongjie Dai, Huihua Huang
Abstract
Novel composite hydrogels were synthesized by grafting of acrylic acid onto pineapple peel cellulose and addition of kaolin or sepia ink in ionic liquid 1-butyl-3-methylimidazolium chloride, using potassium persulfate as a free radical initiator and
N
,
N
′-methylenebisacrylamide as a crosslinking agent. The structure and morphology of the prepared hydrogels were characterized by Fourier transform infrared spectroscopy, field emission scanning electron microscope, X-ray diffraction, thermogravimetry and differential scanning calorimetry. Kaolin and sepia ink improved the thermal stability of the hydrogels. Swelling studies on the prepared hydrogels indicated sepia ink and kaolin affected the swelling ratio and pH-responsive properties. The optimum swelling pH value for the hydrogels was shifted from 7.0 to 12.0 in the presence of sepia ink. The effects of kaolin and sepia ink contents on methylene blue adsorption capacity of the prepared hydrogels were also investigated. The optimum methylene blue adsorption capacity reached 153.85 mg/g at 10% of kaolin and 142.21 mg/g at 20% of sepia ink. The pseudo-second-order kinetic model fit well with the experimental results, indicating the adsorption was chemisorption behavior.