02.07.2019 | Original Paper | Ausgabe 5/2020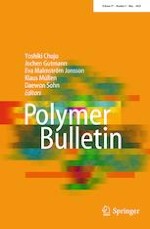 Synthesis, characterization and rheological properties of multiblock associative copolymers by RAFT technique
Zeitschrift:
Autoren:

Cesar Nadem Muñoz-López, Sergio Díaz-Silvestre, J. Guadalupe Telles-Padilla, Claudia Rivera-Vallejo, Claude St Thomas, Enrique Jiménez-Regalado
Wichtige Hinweise
Publisher's Note
Springer Nature remains neutral with regard to jurisdictional claims in published maps and institutional affiliations.
Abstract
Preparation of associating multiblock copolymer electrolytes mediated by radical addition–fragmentation chain transfer (RAFT) technique has been evaluated and reported in this investigation. The synthesization of copolymers was performed at room temperature in 1,4-dioxane using redox catalyst: tert-butyl hydroperoxide and ascorbic acid as initiator. The copolymers are composed of a large hydrophilic block formed with acrylic acid and ethyl acrylate and a short hydrophobic segment of lauryl acrylate. A symmetrical RAFT chain transfer agent was used in order to incorporate a greater number of blocks by chain extension of macroagent, triblock and pentablock copolymers. Once obtained, the resultant polymers were thoroughly characterized by nuclear magnetic resonance, size exclusion chromatography, differential scanning calorimetry and rheometry with the aim to determine the structure–property relationship. The influence of hydrophobic length was demonstrated and played a significant role in the rheological properties of copolymers.