01.02.2011 | Original Paper | Ausgabe 3/2011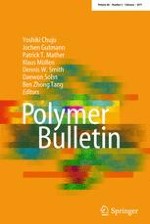 Synthesis, characterization of star-shaped copolymers of
l

-lactide and epoxidized soybean oil
Zeitschrift:
Autoren:

Jun Zou, Xuan Chen, You Shu, Haijun Zhou, Farong Huang
Abstract
Biodegradable star-shaped PLLA–ESO copolymers were synthesized by the bulk copolymerization of
l
-lactide (
l
-LA) and epoxidized soybean oil (ESO) with stannous octanoate as the catalyst. Effects of molar ratios of monomer to catalyst, and various amounts of ESO on copolymerization were studied. The resulting copolymers were characterized by FTIR,
1
H NMR, GPC, etc., which confirmed the successful synthesis of star-shaped copolymers of
l
-LA and ESO. The thermal and mechanical properties of samples were also investigated by means of DSC, TGA and tensile testing. The results showed that the PLLA–ESO copolymers possed lower glass transition temperature, melting point, crystallinity, and maximum decomposition temperature than those of neat polylactide. Tensile testing demonstrated that PLLA–ESO copolymer had better ductility than linear PLLA. It was also found that the amount of catalyst almost had no influence on the weight average molecular weight of PLLA–ESO copolymers, but which could be controlled by variation of molar ratios of
l
-LA to ESO.