01.08.2014 | Ausgabe 15/2014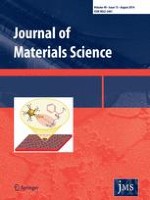 Synthesis, characterization, photocatalytic evaluation, and toxicity studies of TiO2–Fe3+ nanocatalyst
Zeitschrift:
Autoren:

Iliana Medina-Ramírez, Jingbo Louise Liu, Araceli Hernández-Ramírez, Cristina Romo-Bernal, Gladis Pedroza-Herrera, Juan Jáuregui-Rincón, Miguel A. Gracia-Pinilla
Wichtige Hinweise
Electronic supplementary material
The online version of this article (doi:
10.​1007/​s10853-014-8234-z
) contains supplementary material, which is available to authorized users.
Abstract
Based on our previous work on the green preparation of Ag–TiO
2
photocatalyst with bactericidal activity under visible light, we extended our studies to the synthesis of TiO
2
–Fe
3+
materials with enhanced photocatalytic activity for the degradation of recalcitrant organic pollutants in water. TiO
2
–Fe
3+
nanopowders were synthesized using a robust, environmentally friendly procedure. Established amounts of Fe(NO
3
)
3
·9H
2
O and titanium tetraisopropoxide (TTIP) were mixed using glacial acetic acid as solvent. Hydrolysis of TTIP–Fe
3+
was accomplished using a 30 % (W/V) Arabic gum aqueous solution. TiO
2
–Fe
3+
nanopowders were obtained by thermal treatment at 400 °C. In order to elucidate the structure of these photocatalysts, microscopic and spectroscopic characterization techniques were applied. The high resolution transmission electron microscopy (HRTEM) analysis indicated the presence of uniformly distributed particles with average particle size of about 9 nm. According to the HRTEM lattice fringes, ring pattern, and selected area electron diffraction pattern, the crystalline part of the samples consists of
anatase
(PDF 01-086-1157 with the lattice constant of 3.7852, 9.5139 Å and 90°) as dominant phase. X-ray photoelectron spectroscopy (XPS) was applied to determine the oxidation state of iron. The XPS provides evidence for Fe
3+
surface species in the TiO
2
–Fe
3+
composite. Complete degradation of aqueous solutions (20 ppm) of methylene blue and/or methyl orange was accomplished after 4 h of treatment using 150 mg of TiO
2
–Fe
3+
/150 mL of dye solution. The in vitro toxicity of the materials was tested. The materials showed no toxicity against human red blood cells.