22.12.2016 | Ausgabe 7/2017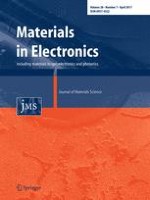 Synthesis, growth, and characterization of new stilbazolium derivative single crystal: 2-[2-(2,4-dimethoxy-phenyl)-vinyl]-1-ethyl-pyridinium iodide for third-order NLO applications
Autoren:

K. Nivetha, S. Kalainathan, M. Yamada, Y. Kondo, F. Hamada
Wichtige Hinweise
Electronic supplementary material
The online version of this article (doi:
10.​1007/​s10854-016-6174-x
) contains supplementary material, which is available to authorized users.
Abstract
2-[2-(2,4-Dimethoxy-phenyl)-vinyl]-1-ethyl-pyridinium iodide (DMPI), a new organic stilbazolium derivative was synthesized and grown by slow evaporation technique. The crystal structure of the grown crystal was solved by single crystal X-ray diffraction analysis and it was found that DMPI crystallizes in triclinic structure with the centrosymmetric space group Pī. Various functional groups of the grown crystal were identified using FT-IR spectral analysis. The molecular structure of DMPI was further confirmed by 1H NMR and 13C NMR spectral studies. The linear optical studies revealed that the grown crystal has a wide transparency range from 481 to 800 nm, which is suitable for opto-electronic and nonlinear optical applications. The luminescence spectrum of DMPI showed yellow emission radiation at 571 nm. TG/DTA analysis revealed that the grown crystal was thermally stable up to 232 °C. Microhardness studies confirmed the reverse indentation size effect of DMPI. The dielectric behaviour of DMPI was analyzed by dielectric studies with various frequencies at different temperatures. The surface damage threshold study showed that the grown crystal has higher optical radiation stability against 1064 nm Nd: YAG laser. Studies of its nonlinear optical properties using a Z-scan technique indicated that DMPI crystal possesses a saturable absorption and the self-focusing effect. Negative photo conducting nature of the grown crystal was obtained by photoconductivity measurements.