2020 | OriginalPaper | Buchkapitel Open Access
9. Synthesis: Managing Socio-ecological Production Landscapes and Seascapes for Sustainable Communities in Asia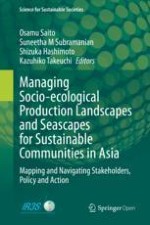 Autoren: Osamu Saito, Suneetha M Subramanian, Shizuka Hashimoto, Kazuhiko Takeuchi
Verlag: Springer Singapore
Abstract
While Chaps.
2
–
5
covered specific case studies of landscapes and seascapes in Japan (Chaps.
2
–
4
) and Bangladesh (Chap.
5
), Chaps.
6
–
8
consisted of a series of review articles on sustainable management approaches relating to land/seascapes that explored lessons learned from assessing resilience in socio-ecological production landscapes and seascapes (SEPLS) (Chap.
6
), solutions for sustainable management of SEPLS in Asia (Chap.
7
), and the effectiveness of biodiversity science–policy interfaces (SPIs) from local to global scales (Chap.
8
). These chapters are summarized here according to their objectives, materials/study sites, methods/tools, spatial scales, and key actors. Then, the implications for the United Nations Convention on Biological Diversity (CBD) Post-2020 Global Biodiversity Framework are discussed using key leverage points of transformations toward sustainability identified by the Intergovernmental Science-Policy Platform on Biodiversity and Ecosystem Services (IPBES) Global Assessment: (1) visions of a good life; (2) total consumption and waste; (3) values and action; (4) inequalities; (5) justice and inclusion in conservation; (6) externalities and telecoupling; (7) technology, innovation, and investment; and (8) education and knowledge generation and sharing.