05.09.2017 | Ceramics | Ausgabe 1/2018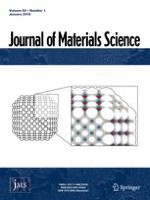 Synthesis, microstructure, and electrical behavior of (Na0.5Bi0.5)0.94Ba0.06TiO3 piezoelectric ceramics via a citric acid sol–gel method
Zeitschrift:
Autoren:

Rui-yi Jing, Xiao-ming Chen, Jia-ping Ma, Han-li Lian, Wei-ting Chen
Abstract
Nanosize (Na
0.5
Bi
0.5
)
0.94
Ba
0.06
TiO
3
precursor powders were prepared via the citric acid sol–gel method. The ceramics were sintered at 1100–1150 °C. All ceramics exhibit a single-phase perovskite structure. With increasing sintering temperature, the average size of grains in the samples changes slightly from 0.3 to 0.5 µm. All ceramics show obvious dielectric dispersion. Activation energy values were obtained via impedance, electric modulus, and conductivity, respectively, which are in the range of 0.60–1.06 eV. Compared to ceramics synthesized by solid-state reaction method, the as-synthesized samples are fine-grained and have high depolarization temperature and excellent temperature stability of the piezoelectric constant (
d
33
). The
d
33
value of the sample sintered at 1120 °C remains as high as 119 pC N
−1
with increasing annealing temperature to 115 °C, whereas the reduced amplitude of
d
33
is only approximately 3%.