2019 | OriginalPaper | Buchkapitel
Synthesis of a Non-Grashof Six-Bar Polycentric Knee Prostheses Using an Evolutionary Optimization Algorithm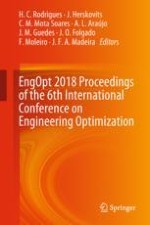 Erstes Kapitel lesen
Autoren: Cuauhtémoc Morales-Cruz, Edgar Alfredo Portilla-Flores, Rosaura Anaíd Suárez-Santillán, Noemi Hernández-Oliva, Maria Bárbara Calva-Yáñez
Abstract
The knee prosthesis development has tried many approaches including passive, dynamically damped and powered designs. Nevertheless, the passive approach still has some very important aspects to contribute to this complex design process and must be restudied before applying any powered approach. The synergistic combination of this two perspectives is necessary to conceive the knee prosthesis implementation as a biomechatronic design and to take advantage of the best from each approach.
The purpose of this study is the dimensional synthesis of a polycentric six-bar mechanism to be implemented as a knee prosthesis. For this reason, a constrained numerical optimization is proposed where the main objective is the minimization of the error when following the desired trajectory, previously obtained as a result of the Mexican anthropometry studies. Additionally, this study adds, as a requirement, the avoidance of the knee hyperextension with the mechanism itself instead of using mechanical stops added into other stages of the knee design. This work handles this new requirement by applying a set of new constraints in the optimization problem to impose the desired behavior as well as forcing the synthesized mechanism to be a Non-Grashof mechanism. The optimization problem is solved by using an evolutionary technique, because of its simplicity in the implementation and the good results reported in literature when solving real-world engineering problems. The Differential Evolution algorithm is applied in combination with some simple but efficient rules to handle the constraints.
By following this route the obtained mechanism follows the desired trajectory, avoids the hyperextension and its configuration is more compact due to the folding characteristics of a Non-Grashof configuration. Finally, the obtained mechanism simulation is presented and it is modeled using CAD tools.